How to Qualify Your Home Inspector
by Rick Hartmann
I read a lot of other home inspectors' websites. I read a lot of inspection reports. Quite frankly, some of those scare the heck out of me and leave me wondering how these people are still in business. They conduct an inspection which by most standards, is unacceptable and issue a hard-to-decipher, hand-written, checklist style report. They are still in business because most people still shop for a home inspection by price. Some unscrupulous Realtors will choose this type of inspector because they "under-report."
Before asking a potential inspector how much they charge, read the items below to properly qualify your home inspector. Remember, in this business, you get what you pay for. You can't expect a Mercedes for the price of a Mazda. If you take away anything from this article, PLEASE, don't shop by price!
On last word of warning, in the State of California, home inspectors are not allowed to do repairs on the properties they have inspected for a period of 12 months after the date of the inspection. If your home inspector offers to do repairs, THEY ARE VIOLATING THE LAW.
Excerpt from the California Business and Professions Code:
7197. (a) It is an unfair business practice for a home inspector, a company that employs the inspector, or a company that is controlled by a company that also has a financial interest in a company employing a home inspector, to do any of the following: (1) To perform or offer to perform, for an additional fee, any repairs to a structure on which the inspector, or the inspector's company, has prepared a home inspection report in the past 12 months.
1. Professional Affiliations: Membership in a recognized association of home inspectors, such as the American Society of Home Inspectors (ASHI), is commonly held to be a measure of professionalism among home inspectors. Membership requires adherence to standards of practice, codes of ethics, and ongoing education. On the other hand, no governing body can mandate competent performance or ethical conduct. Regrettably, not all association members are truly qualified inspectors. Beware of associations who administer an on-line test for acceptance. There was a recent news report where a 12 year old boy became a "certified home inspector" over the internet. Just pay a fee, take a simple test and you're in.
I am a member of ASHI. In order to become a ASHI Certified inspector, I had to submit proof of 250 fee-paid inspections, had a random sample of 5 inspection reports reviewed and passed a Standards of Practice and Ethics exam. ASHI is a nationally recognized credentialing organization.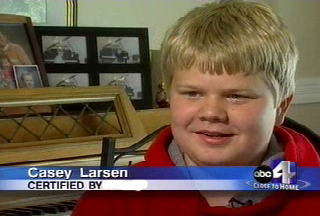 2. Inspection Experience: Years of dedicated practice can produce home inspectors with the ability to discover defects that would be missed by inspectors with less experience. On the other hand, shortcomings in talent or integrity can diminish the benefits of accumulated experience.
I began inspecting homes in November 2003. As of 01/01/18, I have performed over 2167 inspections. Out of those 2167, 2 clients called to report that I missed something. FYI, this was in 2005, when I was still 'green'. One was that I didn't point out some broken glass in a dishwasher and another, that a 28 year old microwave failed and the client wanted a new one. Heck, I wrote in the report that it was 28 years old and you should budget for a new one! Compared to my fellow inspectors who seem to constantly 'belly-ache' about how bad their clients are, I think I'm doing pretty good!
3. Building Code Certification: Although code certification is not a professional requirement for home inspectors, some inspectors acquire code credentials to increase their knowledge of potential building defects. This knowledge is unquestionably beneficial. On the other hand, increased knowledge is not related to the inherent ability to observe and evaluate defects. It is possible to know the code yet fail to recognize an apparent problem.
I am an ICC Certified Residential Building Inspector, Certified Electrical Inspector and Certified Mechanical Inspector. ICC writes the code books. Their tests are not easy or cheap. I recently saw one home inspectors website which displayed the ICC logo, however, upon closer examination, he has not taken any inspection tests. He basically paid for a magazine subscription. Be careful, home inspectors will employ a lot of fancy tricks to "fluff-up" their qualifications. Ask for a resume. Any home inspector which cannot immediately supply you with one may not be qualified.
4. Formal Home Inspection Training: A common mistake among new home inspectors is to rely on past construction experience, rather than on specific home inspection training. Those who have attended a qualified school are better prepared to commence their careers as inspectors. On the other hand, there is no amount of schooling that truly prepares one for the complexities of inspecting homes. Schooling merely provides a foundation on which to build experience.
I learned the home inspection profession through a 1.5 year apprenticeship (mentorship) program. 2 seasoned CREIA inspectors took me on 75 home inspections from start to finish over the course of a year. I did practice reports for all the properties inspected which were reviewed by my mentors. At the end of that year, I attended the TWI Training School in Las Vegas for 1 week. For the next 6 months, a representative sample of the fee-paid inspections I performed were reviewed. Experience is the best way to learn. No training school can teach that. Ask your next prospective home inspector what type of home inspection training they've had. You'll be surprised!
5. Ask for a Sample Report: Sample reports provide clues as to the thoroughness of a home inspector. If you have difficulty reading the sample report on their website, you'll know that you won't have an easy time reading yours. Stay away from checklist style reports. On the other hand, anyone can purchase a high-tech report writing system. The report may look great, but this does not mean there is a qualified inspector behind the printed page. Furthermore, sample reports only show the problems that were found by the inspector, not the ones that were missed. Look closely for spelling and grammatical errors. This will give you some clues as to the inspectors level of education.
I use the Home Inspector Pro software system. Yes, this software came pre-loaded with canned comments, however, I threw them all out! I've written each comment in the report myself and each comment is specifically tailored to accurately describe the conditions of the home I am inspecting. I speak English, not 'Inspectorspeak.' You won't see the phrases 'appears serviceable' or 'monitor this condition' in any of my reports.
6. Contracts and Insurance: Many home inspectors do not carry Errors and Omissions Insurance. The state of California does not require it, so many don't bother. People rarely ask me if I am insured. I would ask any potential home inspector you are looking to hire if they are insured and insist they provide proof. I have heard from several home inspectors that tell their clients they are insured, but they are not. What other recourse will you have if they miss something?
You should also ask to see a copy of their inspection agreement. Many home inspectors try to limit their liability to the cost of the inspection. This is a violation of the business and professions code.
I carry Errors and Omissions Insurance and have General Liability Insurance. I do not limit my liablilty to the cost of the inspection. I stand behind my work for four years!
7. Here's a Litle Trick to Qualify a Potential Home Inspector: After you have asked how much the inspection fee is and you've determined that the price is right, do yourself a favor and ask the following 3 questions. If the inspector you chose gets any of them wrong, the fee is too low and you should keep looking.
1. What is the current Building Code in California? THE 2013 CALIFORNIA RESIDENTIAL CODE
2. What is the current building standard for rise and run of stairway treads? 7 3/4" AND 10"
3. Do you you what KITEC water supply piping is? WATER SUPPLY PIPING AND BRASS FITTINGS THAT HAVE BEEN SUBJECT TO A CLASS ACTION LAWSUIT. IT IS FAILING IN HOMES IN NORTHERN CA.